Freie Musik fuer Designer (13)
Immer Donnerstags: kostenlose MP3-Musik bei FontShop,
Begleitmusik für Kreativarbeiter.
Heute das neue Album »Knowing is half the battle« des holländischen Songwriters Stefan Breuer alias
The Subhuman
, veröffentlicht bei
WM Recordings
. Wer Elvis Costello mag, Van Morrison, die Eels oder Tindersticks ... der wird begeistert sein von Stefan Breuer.
Weiterlesen ...



Comfort Stand schreibt über Breuer:
»The Subhuman is the alter ego of Dutch singer/songwriter Stefan Breuer (1987). His music is all about songs. Stefan's been writing them since age 10 and has released them on various privately produced CDs.
In 2002 he formed his own band, The Subhuman & The Holy Ghosts, to perform his songs with him, but Knowing is half the battle is 100% pure Stefan. « Mehr Infos auf der
Webseite von Stefan Breuer ...
Die einzelnen Titel downloaden:
01.
Battle
02.
Vietnam
03.
Shoes
04.
The shining sun
05.
Millions dead
06.
Dragons
07.
I'm a God
08.
Two hands
09.
Whatever
Das komplette
Album downloaden ...
(29,5 MB)
Art-work (400 x 400, nur Cover):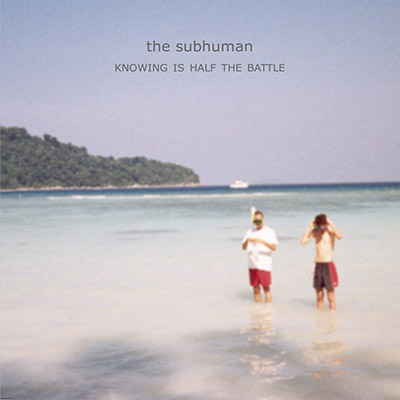 Mehr Art-work:
Das
Cover hochaufgelöst
(.jpg, 959 x 950 dpi)
Das
Back-cover
hochaufgelöst (.jpg, 1188 x 950 dpi)
Herausgegeben: Do - September 22, 2005 at 12:03 vorm.
|